Lightweight & structurally sound solid roof
Transform your conservatory into an everyday room that is consistently the same temperature as the rest of your home. Whether you're simply replacing your conservatory roof, upgrading your window frames too or completely re-building your conservatory, Ultraroof is the ultimate solution
Lightweight and structurally sound
With a tiled roof, it is important to consider the exact location in which it will be installed and that the extremes of weather are taken into account during the design process. Ultraframe's specialist software ensures that every Ultraroof is structurally engineered to withstand the worst potential wind and snow loads for your specific full postcode – providing you with complete peace of mind, whatever the weather.
After a heavy snowfall, snow places considerable weight on the roof and this will be less likely to melt on a highly thermally efficient tiled roof than it would be on a glazed conservatory roof. It is vital, therefore, that the original glazing bars that were designed for glass are removed and that the roof is lightweight, so the frames are not overloaded and are able to withstand the weight of the snow.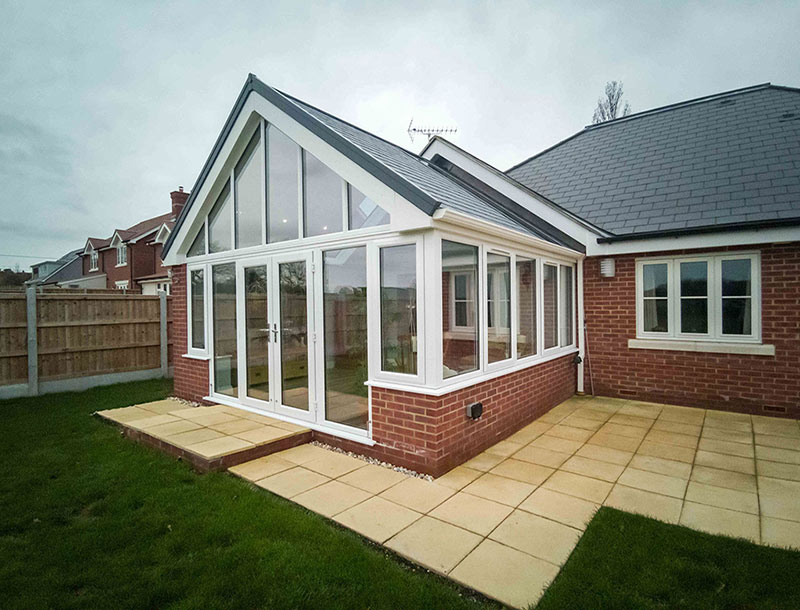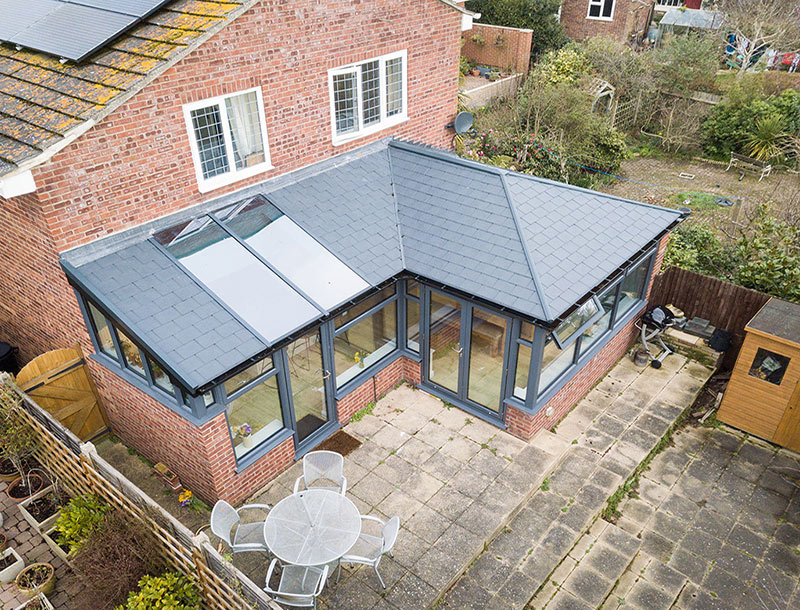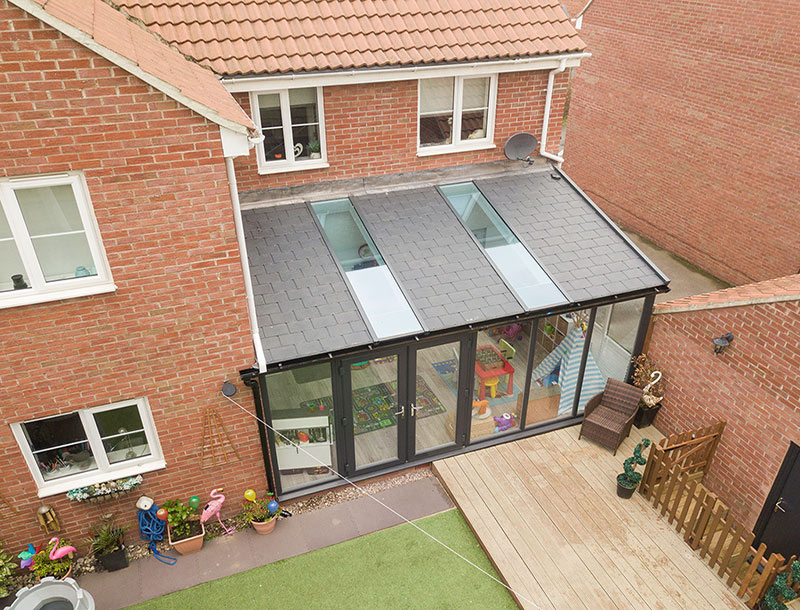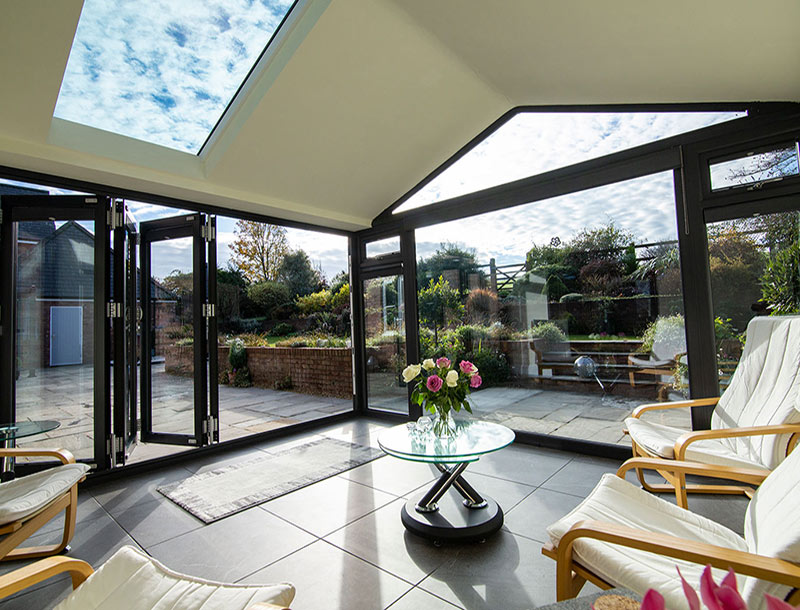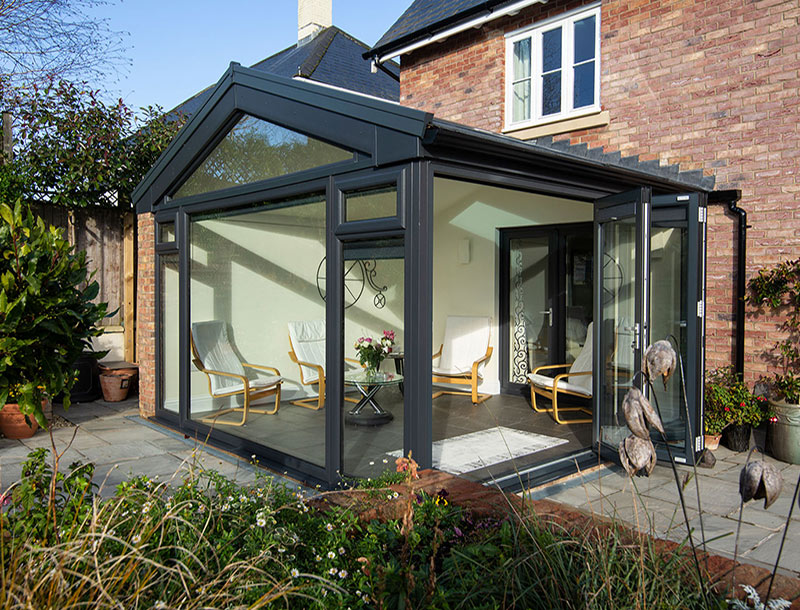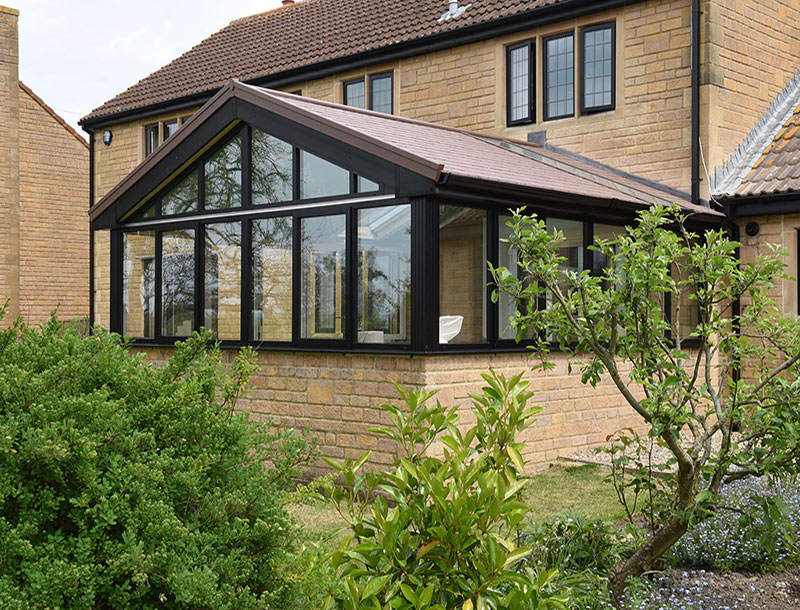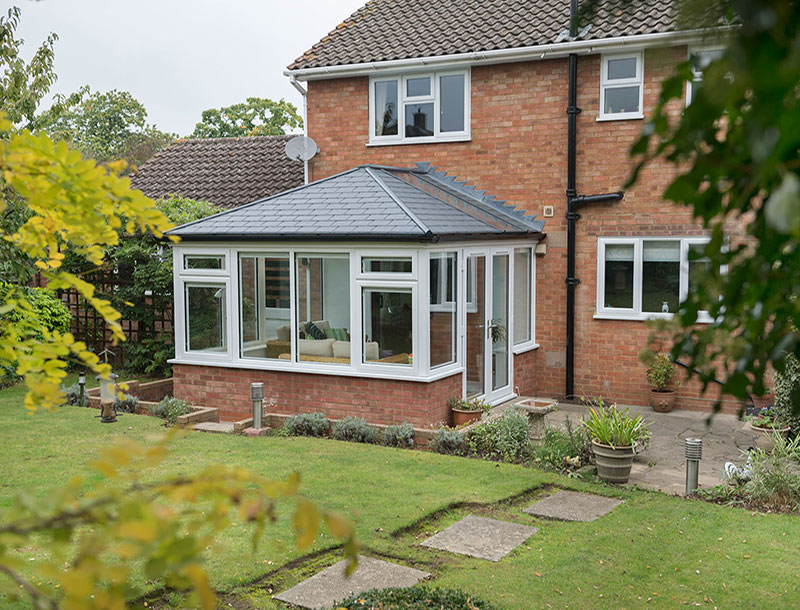 Create a stunning home extension
Bringing plenty of light into adjoining rooms, Ultraroof is the ideal roofing system for your home extension.
Ultraroof's stunning interior features an internal pelmet which is the perfect place to house downlights or speakers. Plus, no matter what style or shape, Ultraroof never needs a tie bar – ever. This means that the interior will always feature an uninterrupted vaulted ceiling, which further adds to the sense of space.
On the outside, Ultraroof can be personalised with a decorative cornice, an external soffit, and a choice of lightweight slate or shingle effect tiles. You can even use real tiles to match your house with Ultraroof.
Super strong for grand designs
Ultraroof is designed for large spans of bi-fold doors and can span up to 4m unsupported. The integrated full length glass panels in the roof ensure your extension and any adjoining rooms are flooded with natural light, or if you prefer, Velux windows can be added.
In order for your tiled roof project to run smoothly and on schedule, you need a roof you can trust. Ultraroof is fully tested and compliant to both Building Regulations and the latest fire safety standards. Not only this, but Ultraroof is also the fastest to build and the most thermally efficient tiled roof on the market.
Call our team on 01903 504466 now!
Download brochure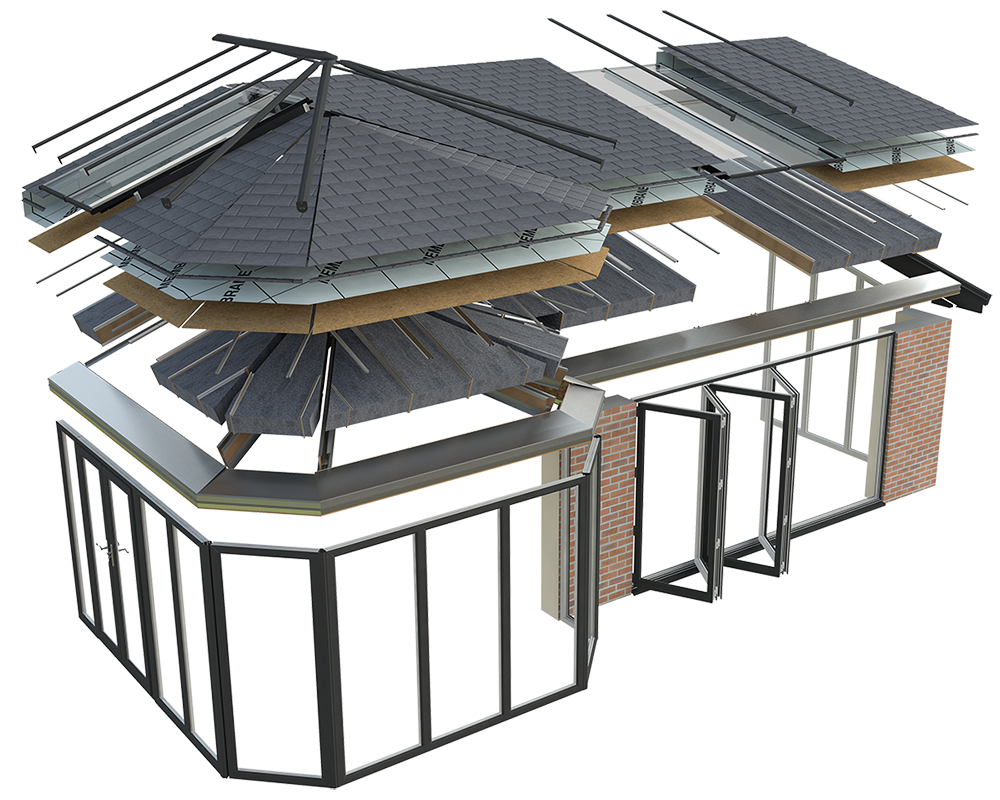 Your own space
Your conservatory or extension project is personal to you, and somewhere where you will spend a lot of time once it's complete.
Your conservatory your way
The Performance Conservatory features the latest super-insulated column technology which is five times more thermally efficient than standard brick columns. This means that not only will your Performance Conservatory look stunning, it will also be extremely thermally efficient. The decorative cornice gives a sense of grandeur and style to the conservatory externally, while internally, the plastered columns and insulated perimeter ceiling pelmet give a cosy feel to the room.
The super-insulated columns also feature a plastered finish to the interior, and combined with the ceiling pelmet, the effect is a cosy room-like feel. Stunning to look at with superior thermal performance, you will enjoy this conservatory all year round.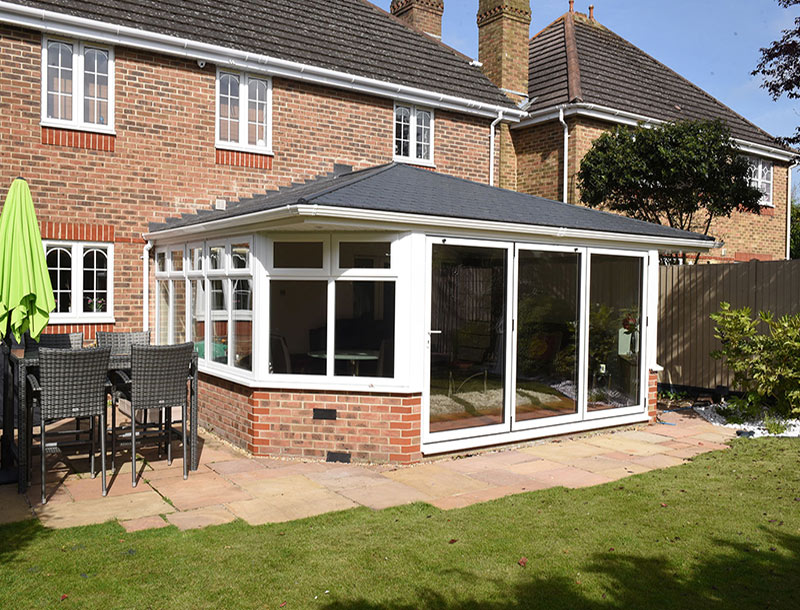 Construction
Fastest to build Because Ultraroof is precision engineered and pre-manufactured to your specifications there is no cutting, trimming or battening required. Put simply, this means less mess and disruption for you as Ultraroof is built much faster than other systems or a traditional roof.
Independently and fully fire tested
Components and complete structure both fully fire tested. Fire rated as B-roof according to EN 13501-5: 2016 and Fire rated as AC according to BS476-3:2004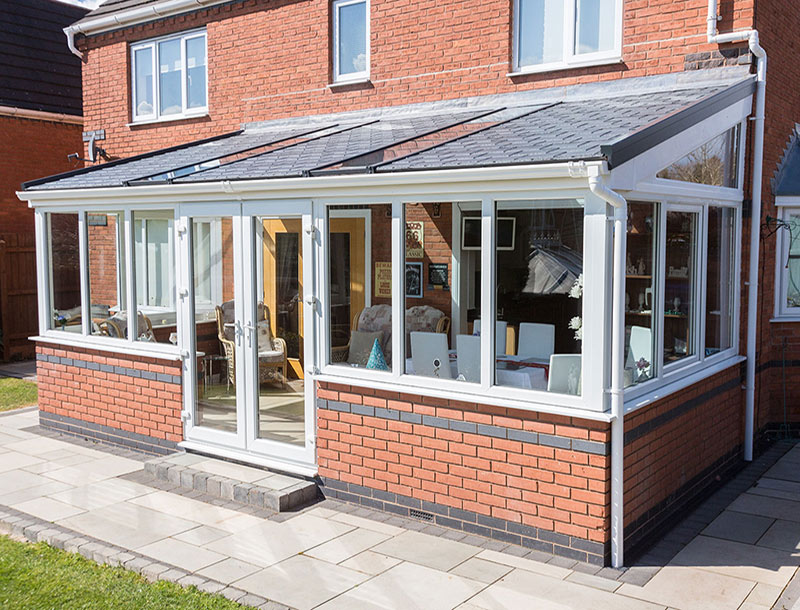 Benefits
Utraroof Retains warmth in winter and keeps your room cool on a hot day with a U-Value of 0.17, even with glazing panels. With option to reduce to 0.13 if required. Its a complete warm roof system, with no cold bridging with a fully insulated 380mm structural beam.
Not quite what your looking for?
Take a look at our range of other home improvment products
Call us on: 01903 504466 to find out more!
Speak to one of our friendly team to discuss the right home improvement for you.
Office phone hours - Monday Thursday 8-5, Friday 8-4
Showroom hours by appointment only - Monday to Thursday 9.30-4pm, Friday 9.30-3.30pm